Life is Busy! Managing Your Job Search to Get Results
There is a saying, "looking for work is a full-time job". Most job seekers find the job search process stressful and time-consuming. When life is busy with many roles that a job seeker needs to fulfill such as student, part-time worker, and having family responsibilities, it is crucial to understand what the job search process looks like, what are the steps involved in this process and how you can effectively manage your job search by developing a plan to get a meaningful outcome within a reasonable amount of time. Here are some tips to help you set goals and realistic expectations.
Why is it important to have a job search strategy/plan?
In order to manage your job search effectively, you need to be strategic, organized and manage your time effectively by creating a job search plan. Your plan can help you with:
Making your job search efforts effective
Helping you track your job search activities
Understanding what is working for you, and what is not
Evaluating your job search method and adjusting accordingly
What does the job search process look like?
Job search is a process, so it is important for job seekers to prepare at every stage of the process to maximize their chances of getting hired. Job search expert, Hannah Morgan, has explained the process of job search, outlining six distinct steps:
assessment (self-reflection),
research,
preparing materials to present yourself,
managing the job search project like project management,
interview strategies, and
job search monitoring and reflection.
Here is an example: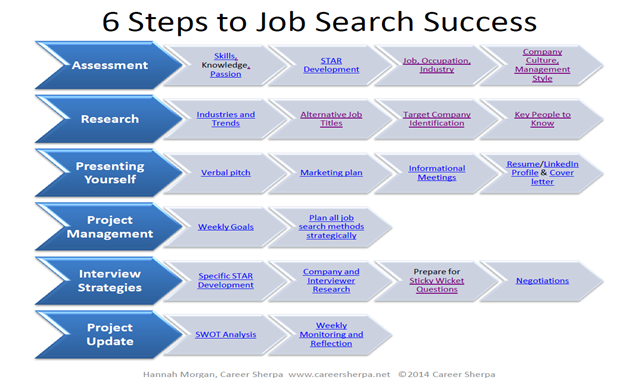 Step 1 – Know Yourself/Self-Assessment: At this stage of your job search, you need to develop a solid understanding about your values, interests, aptitudes, personality style, motivation, skills and accomplishments so that you can explore career matches and set job targets. The Career Services team can provide you with links to assessment tools and coaching to help you interpret your results. At this stage, you should be able to set your career and job targets.
Step 2 – Research and Preparation of Work Search Documents: Once you identify your career and job targets, you need to invest some time in doing labour market research such as industries that interest you, occupations, job trend analysis, targeted companies, and people who are working in those sectors. You can conduct a Google search, browsing company websites, using LinkedIn, and conducting informational interviews. Once you complete the research stage, you need to prepare your application materials such as resume, cover letter, and portfolio.
Step 3 – Develop Your Job Search Plan: Developing your job search plan requires time, dedication, and a commitment to stick to the plan. When developing a job search plan, you can ask the following questions to get you organized and started:
What are my long- term and short-term career goals?
What are my strengths and weaknesses?
What actions do I need to take to overcome my weakness and what resources are available to me?
What are the action steps needed to achieve my employment goal?
What deadlines should I assign to the action steps?
What potential obstacles might I face? What can I do to overcome those obstacles?
What support systems are available to me?
Once you come up with the answers to all these questions, you can create a job search plan. Please keep in mind that the job search plan should be customized to you, based on your unique circumstances. It is important to create a job search plan with SMART goals. SMART is an acronym; and the letters in the acronym refer to: Specific, Measurable, Achievable, Realistic and Time-specific. Here is an example of a job search plan which you can tailor based on your unique circumstances.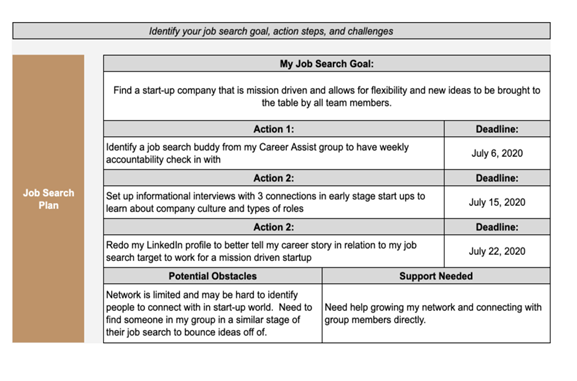 Source: https://www.tealhq.com/post/job-search-plan
Step 4 – Job Search Monitoring and Reflection: Managing your job search is like managing a project. Therefore, it is important to review your job search activities and the progress you have made and make changes accordingly. Evaluate what is working, what is not working, and keep track of your activities. I would recommend some useful job search tools that you can use to track your activities, for example, a job search tracking spreadsheet, hiring manager contact list, job search checklist and job search reflection checklist. Here are examples of a job search tracking spreadsheet and a hiring manager contact list.
Job Search Tracking Spreadsheet: Tracking your job search activities can help you to be more organized and evaluate your progress. You can make a spreadsheet to track your job application so that you can follow through with all the required steps.
Hiring Manager Contact List: As spending time strategically in your job search is crucial, you should spend 80% of your time on networking because most jobs are found through relationships. This makes it important to track how many hiring managers/recruiters you have reached out to and what the next follow-up steps will be.
Source: https://public.careercruising.com/en/
Managing your job search can be intimidating, but if you develop a plan/strategy and commit to following it, your chances of finding work will dramatically increase! You need to be proactive and adaptable at the same time by adjusting your job search plan based on your unique circumstances and needs.
Sources:
https://www.thebalancecareers.com/career-action-plan-524755
https://www.indeed.com/career-advice/finding-a-job/strategic-job-search
https://www.tealhq.com/post/job-search-plan
https://careersherpa.net/the-process-of-job-search/
https://careersherpa.net/take-a-step-back-and-look-at-your-job-search/
https://careerservices.myyu.ca/preparing-for-work/
by Snigdha Madhuri,
Career Services Advisor, BC Campus