When looking for employment opportunities it is important to consider the perspective of both stakeholders – employers and the job seekers. The Pyramid diagram highlights the disconnect between the methods used by employers to identify candidates and the strategies used by many job seekers.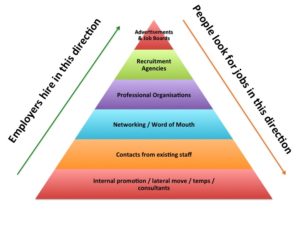 As you can see, employers (the left side of the Pyramid) start at the bottom, looking internally for candidates first. They then move up the Pyramid, utilizing their various internal (e.g., existing staff) and external networks (e.g., networking, professional associations) and other hiring methods (e.g., recruitment agencies) before posting a job. This means that employers have exhausted all other avenues of finding candidates before resorting to a public posting.
Job seekers, however, tend to go in the other direction, starting their job search at the top, focusing only on job boards and publicly posted job ads. They often do this as it can seem easy, yet easy does not always equal success as, at this point, so many jobs have been filled through the other methods used by employers. When job seekers begin at the top of the Pyramid, they limit their search to only jobs that are externally advertised, leaving them competing with other applicants in a small fraction of the labour market.
To maximize chances of landing that coveted dream job, job seekers must use a diverse strategy including building and nurturing professional networks, attending relevant networking events, joining LinkedIn groups, attending conferences, conducting informational interviews, and volunteering. To learn more visit https://careerservices.myyu.ca/finding-work/